PIPELINE INTEGRITY MANAGEMENT SERVICES
This is the process of managing Pipelines Operations Assets to achieve its purpose of installation and safety. Failure of pipelines usually result in unsafe incidents, deferment of production and Pipelines operator's reputation.
Integrated Oil Shore Services Pipelines management team have field experience spanning Sectional Replacement, Emergency Leak repair, Tie-in and hoop-up, and Pipeline Internal inspection etc
 Pipeline Leak Repair
 Pipeline Construction and Section Replacement (Hot Tap & Stopple Option) Repair
 Routine & Non-Routine Pigging and Intelligent Pigging
Oil & Gas Pipeline/Flowline Welding and Installation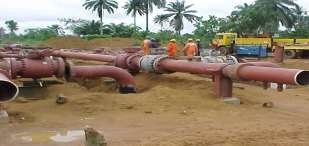 Pipeline construction and hook –up 10'' x 3km from X tree to Ahia Flowstation. Miscellaneous Inplot piping leak repairs and Manifold header repairs.